Center for Election Innovation and Research (CEIR) is an electoral policy advocacy group which provides grants and conducts research ostensibly to increase voting security and increase voter turnout. The organization was created in the wake of the 2016 election in response to foreign interference and alleged low voter turnout; in 2020, it took specific action to counter the effects of the COVID-19 pandemic on the general elections. 1
In August 2020, Facebook founder and billionaire Mark Zuckerberg and his wife, Priscilla Chan, announced they were donating $50 million to CEIR, a sum 50 times larger than the organization's 2017 revenues. The actual amount of the grant was later confirmed to be much larger, totaling $69.5 million according the Zuckerberg Chan Initiative's website.2
CEIR is run by David Becker, an election law attorney and former People for the American Way (PFAW) activist who served in the voting section of the Justice Department Civil Rights Division in the early 2000s. In 2020, the former acting head of the Civil Rights Division described Becker as a "hardcore leftist" who "couldn't stand conservatives" and "should have been disbarred" for unethical behavior. 3
Activity
Grants
The Center for Election Innovation and Research provides grants to state governments to increase the efficiency and voter turnout for elections. The group's 2020 election priorities, which focused on combatting impacts from the pandemic coronavirus, included: 4
Informing voters about registration and deadlines
Mail voting
Early voting
Polling locations and hours
Vote counting updates
In 2020, CEIR reported distributing $64 million in grants to fund "urgent voter education assistance" in 23 different states. The CEIR's grantmaking during 2020 is shown in the table below:5
| State | Net Grant Amount |
| --- | --- |
| Arizona | $4,788,444 |
| Connecticut | $2,100,000 |
| DC | $811,835 |
| Florida | $287,454 |
| Georgia | $5,591,800 |
| Illinois | $2,762,777 |
| Iowa* | $1,075,000 |
| Kentucky | $1,600,000 |
| Maryland | $575,000 |
| Massachusetts | $200,000 |
| Michigan | $11,939,365 |
| Minnesota* | $1,500,000 |
| Missouri | $1,129,391 |
| New Jersey | $6,180,001 |
| New Mexico* | $768,748 |
| New York* | $5,000,000 |
| North Carolina | $1,141,241 |
| Ohio* | $1,128,090 |
| Pennsylvania* | $13,260,000 |
| Rhode Island* | $632,189 |
| South Carolina | $1,071,797 |
| Vermont | $312,615 |
| Washington | $405,000 |
| Total | $64,260,747 |
* Final grant amount pending. Any unspent funds are to be returned, reducing the total grant.
According to CEIR's 2020 report, 85 percent of CEIR funding was used to fund paid-media campaigns, 11 percent was used for direct mail campaigns, and four percent was used for other communication activities. 6
Grants to Pennsylvania
CEIR initially granted $12 million, later expanded to $13.26 million, to Pennsylvania's Department of State as part of its COVID-19 "relief grants" program in September 2020. 7
In October 2020, CEIR granted $830,779 to Pennsylvania for postcard "outreach to additional citizens included on the ERIC 'EBU refresh' list" totaling 2.1 million individuals. "ERIC" refers to the Electronic Registration Information Center (ERIC), a private organization that helps states maintain their voter rolls and requires them to identify and attempt to register "eligible-but-unregistered" (EBU) voters. CEIR head David Becker founded ERIC in 2012 as a project of the left-leaning Pew Charitable Trusts; he remains a non-voting member of ERIC's board. 8

Pennsylvania later returned a report to CEIR on how it spent the funds. Nearly half ($6 million) was spent on television advertising for mail-in ballot returns and polling places. In total, the state spent $11 million in digital, radio, print, and TV advertisements. It spent another $1.3 million on direct mailers advertising "voting options" and $687,000 on a mailer explaining how to return mail-in ballots.9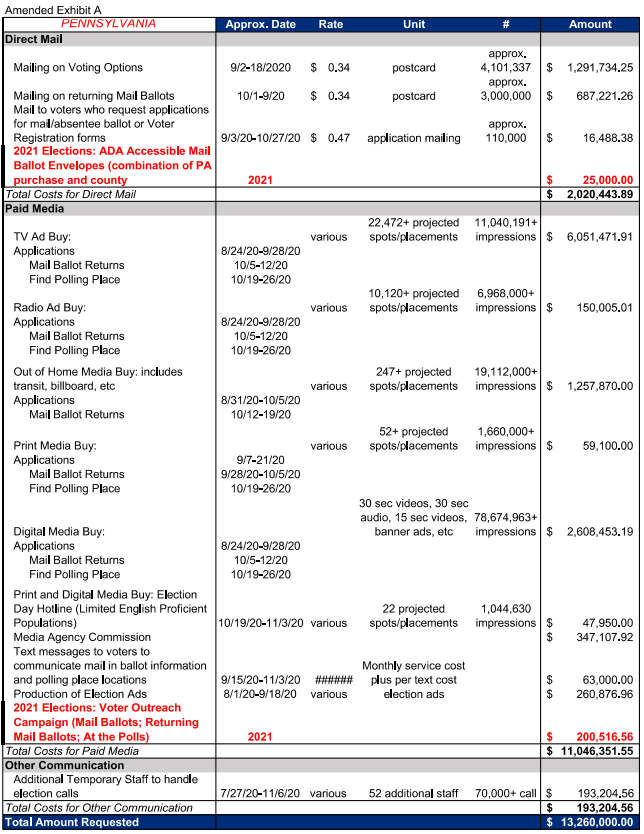 Research
CEIR primarily conducts research on voter security. In August 2020, CEIR released its Voter Registration Database Security report which warned of impending electoral interference from Russia, China, and Iran, but commended most states for implementing double-factor authentication in their voter security. 10
On August 20, 2020, the Social Science Research Network (SSRN) published a research paper by executive director David Becker speculating on the impact of the COVID-19 pandemic on the 2020 election. Becker predicts that the election will see the highest voter turnout in over a century (up to 65%) but only if state governments make significant efforts to increase access to mail-ballot voting and protect in-person voting from COVID-19. 11 However, in June 2020, Becker expressed surprise at historically low voter registration levels during the first half of 2020, which he attributed to impacts from COVID-19. 12
In February 2021, CEIR published the "Confidence in the 2020-2021 Elections in Georgia" report, which reported findings from a survey of Georgia voters on their confidence that their votes were counted as intended. The report stated that voter confidence had dropped significantly, but that 83 percent of all voters in Georgia believed their votes were counted properly, and that "It is heartening to see a relatively small reduction in overall confidence in the face of the unprecedented and false attacks on Georgia's voting system in the immediate aftermath of the presidential election." 13
In March 2021, CEIR's internal assessment of their "voter educations grant program" celebrated substantial reductions in the rates of mail-in ballot rejection between the 2020 primary and general elections. The report claims that "On average, grantee states rejected around 70% fewer ballots in the general election compared to their primary campaigns," a change which the report attributes to voter education programs that helped voters to properly submit mail-in ballots. 14
Media
Becker and other CEIR personnel are regularly interviewed by media outlets on election matters. In a September 2018 article from Wired, Becker highlighted vulnerabilities in voting machines, particularly to hacking. 15 In a November 2018 Politifact article, Becker rejected claims of widespread voting by illegal immigrants. 16 In a September 2019 NBC News article, Becker cited a CEIR study which found that 40% of voters will believe that an election is unfair if their candidate loses. 17
In 2018, David Becker spoke at a panel discussion entitled "Fighting Back Against Russian Active Measures" organized by Netroots Nation. 18 In 2017, HuffPost called Netroots Nation "The Nation's Largest Progressive Gathering" 19 and TIME described it as "the largest gathering of the liberal grassroots in the country." 20
Leadership
The Center for Election Innovation and Research was founded in 2016 by David Becker. From 1998 to 2005, Becker was a trial lawyer in the Voting Section of the U.S. Department of Justice's (DOJ) Civil Rights Division. 21 There he served as lead trial counsel in Georgia v. Ashcroft, an eventual Supreme Court case concerning alleged gerrymandering of senatorial districts to restrict Black voting power. 22 Becker won the case by successfully arguing that the Georgia Senate did not adequately account for disparate impacts on racial minorities, thereby violating the Voting Rights Act. 23
While as of September 2020 he did not list it on his LinkedIn profile nor in his CEIR biography, Becker was a senior staff attorney at the People For the American Way (PFAW) in 2006 before becoming the director of PFAW's Democracy Campaign in 2007. 24 25 26 27 28 29 PFAW is a left-of-center activist group that promotes a policy agenda featuring public funding of abortion providers, amnesty, and government funded healthcare, seeks to expand liberal control of the judiciary, and helps to elect liberal political candidates.
In 2008, Becker became the director of election initiatives at Pew Charitable Trusts. At Pew, Becker started the Electronic Registration and Information Center (ERIC), a voter registration and sharing system between 30 states which has corrected 4 million voter registrations30 and registered millions of new voters. 31
Ethics Complaint Against David Becker
In 2005, when Becker was still a trial lawyer in the Civil Rights Division, a formal complaint was made against Becker after he contacted the city of Boston offering to help defeat a lawsuit opened against them by his employer, the DOJ, for voting infractions. According to memos seen by reporters at the Boston Globe, Becker contacted city officials in Boston during April 2005, while he was still employed at the Justice Department, and alleged that the suit was only filed for political reasons and recommended "that the city fight the suit and hire him to assist in the defense." 32
At the time of this offer, the Department of Justice was already preparing the lawsuit. According to reports, the city declined Becker's offer, but Becker insisted that he "wished to help the city prevail anyway" and offered his services at a rate of $250 an hour while claiming that he was not directly involved in the preparation of the lawsuit, but was "knowledgeable about this case." According the the Boston Globe, Becker went on to tell city officials "There is a strong possibility that [the city] will not only be fully vindicated by the court, but could perhaps collect attorneys' fees and sanctions based on the DOJ's bad-faith tactics." 33 Brad Scholzman, acting head of the Department of Justice's Civil Rights division at the time, stated, "It was the most unethical thing I've ever seen" and called Becker "a hard-core leftist" who "Couldn't stand conservatives." 34
Hans von Spakovsky, who worked as counsel to the Assistant Attorney General for Civil Rights, agreed with Scholzman's characterization of Becker. "In his role with the DOJ, he was supposed to be non-partisan, but his emails uncovered in the Boston investigation revealed nasty, disparaging remarks about Republicans. Very unethical and unprofessional." Becker did not deny these claims when asked for comment by Legal Newsline. "There was no action taken against me by the Department of Justice as a result of this complaint," he answered, dismissing the complaint as irrelevant. 35
Funding
Between 2018 and 2022, the CEIR has received over $1.1 million in grants from the Ford Foundation. Several of the grants were described as being for, "General support to build voter trust and confidence, increase voter participation and improve efficiency of election administration." 36 The Ford Foundation's most recent grant to the CEIR, as of March 2023, was donated in August 2022 for, "General support to restore trust in the American election system and promote election procedures that encourage participation and ensure election integrity and security." 37
Zuckerberg Donation
In early September 2020, Facebook CEO Mark Zuckerberg and his wife, Priscilla Chan, announced they were personally donating $300 million to nonprofits which support voter protection efforts. The pair initially pledged$250 million to the Center for Tech and Civic Life, a left-of-center election reform group, and $50 million to Center for Election Innovation and Research. 38 Though the donation's structure was not initially revealed, the sum was more than 50 times CEIR's 2017 revenues. 39 The actual amount of the grant was later confirmed to be much larger, totaling $69.5 million according the Zuckerberg Chan Initiative's website.40 In a statement, CEO David Becker said CIER will use the money to increase the scale of its existing operations. 41
Critics like Democratic strategist Tara McGowan have claimed that Zuckerberg is attempting to buy public goodwill with the donation after Facebook was accused of facilitating electoral problems by permitting offensive speech and serving as an unwitting platform for some forms of Russian interference in the 2016 presidential election. 42
CEIR ultimately received $69.5 million from the Chan Zuckerberg Initiative, which channeled the money through its account at the Silicon Valley Community Foundation, one of the largest community foundations in the United States and the third-largest donation it made that year. The community foundation's second-largest grant was also from the Chan Zuckerberg Initiative: $328,176,850 paid to the Center for Technology and Civic Life (CTCL), which redistributed the funds to thousands of county and city elections offices as COVID-19 "relief grants." 43 44
Controversies and Criticism
Illegal Campaign Intervention Lawsuit (2022)
On September 22, 2022, the right-leaning watchdog group Center for Renewing America filed a complaint with the Internal Revenue Service (IRS) alleging that CEIR had violated rules prohibiting 501(c)(3) nonprofits from intervening in elections in 2020. The complaint also extended to two related nonprofits, the Center for Technology and Civic Life (CTCL) and National Vote at Home Institute, and asked the IRS to investigate and strip all three nonprofits of their tax exemption. (The center's complaint also suggests that Zuckerberg and Chan may have contributed to National Vote at Home Institute and asks the IRS to investigate that claim.) 45
The same day, the Center for Renewing America also filed a complaint with the IRS against Mark Zuckerberg and his wife, Priscilla Chan, alleging that they had taken "improper charitable contribution deductions" on the roughly $400 million in total that the couple donated to CTCL and CEIR in 2020, since the latter nonprofits had used the funds to engage in unlawful electioneering and were therefore liable to lose their tax exemption. 46 The center wrote:
The very genesis of the Zuckerbucks program also shows that it violates Section 501(c)(3) because it was designed to benefit the personal financial interests of Mark Zuckerberg and his wife Priscilla Chan by avoiding any adverse financial consequences of staying out of the 2020 election.

Specifically . . . the Zuckerbucks program was conceived to offset the supposed damage the couple did to American politics in 2016 by passively allowing Facebook to be used to elect a Republican President.
The Center for Renewing America argues that, although there were no laws specifically prohibiting CTCL and CEIR from making COVID-19 "relief grants" to secretaries of state and county elections offices in the lead-up to the 2020 election, those activities still fell outside of the IRS' definition of the "charitable activities" that 501(c)(3) public charities may lawfully engage in. The group wrote: 47
[T]he pattern of Zuckerbucks spending and how these organizations targeted, penetrated into, and harvested data out of local election offices clearly operated as a de facto get-out-the-vote effort for the Democrat party. As such, under [existing law] . . . these organizations cannot qualify for a tax exemption.

. . .

Even if CTCL, NVAHI [National Vote at Home Institute], and CEIR each operated for some charitable purpose, none of them operated exclusively for such a purpose.
It concludes: 48
In light of the fact that CTCL, NVAHI [National Vote at Home Institute], and CEIR have collectively spent hundreds of millions of dollars on their purpose of revolutionizing the way America votes in order to shift the outcome toward Democrats in key battleground States in 2020 — activities that constituted political campaign intervention and were not in furtherance of any exempt purpose — we urge the IRS to investigate whether these three organizations Section 501(c)(3) statuses should be revoked.
Michigan Grants Paid to Democratic Consulting Firms
In August 2020, CEIR drew criticism for the Michigan Center for Election Law and Administration's (MCELA) use of a $12 million dollar grant to give more than $11 million in consulting fees to Democratic consulting firms to conduct supposedly nonpartisan voter education.
The MCELA, originally the Richard Austin Center for Election Law and Administration, was founded in 2008 by Democratic Michigan Secretary of State, Jocelyn Benson, who remained president on MCELA up until February of 2020. 50
Frank David Miele, of the Star News Network, reported that the MCELA's public disclosures for 2020 showed $11.7 million in consulting fees paid to two powerful Democratic consulting firms for "media strategy and purchase." The powerhouse Democratic consulting firm, Waterfront Strategies, received $9.7 million dollars, and Alper Strategies, the consulting firm of former Democratic National Committee (DNC) political director Jill Alper, received $2 million. 51
The consulting fees reportedly paid for television and radio ads encouraging citizens to vote as well as text messages sent directly to voters who had not voted yet. Miele noted that the text messaging campaigns in particular were cause for concern. "The targeted use of text messages means that the only way to ascertain the non-partisan nature of the campaign is to know where the phone lists for the text messages originated. If they were provided by Waterfront Strategies or Alper Strategies, they could have been lists of potential Democrat voters," Miele wrote. 52
In a comment about CEIR's funding of MCELA to The Star, Phill Kline, executive director of the Amistad Project at the right-of-center Thomas More Society, stated "These funds empowered illegal activities that turned formerly objective government offices into Biden campaign satellite offices." 53
Wisconsin Special Counsel Report (2022)
In March 2022, Wisconsin special counsel Michael Gableman released a report critical of CEIR's involvement in the state in the 2020 election. The report claims that CEIR operated an Election Officials Legal Defense Network (EOLDN) created in December 2021 to provide "legal services for government officials on the hook for misconduct." Gableman alleged that EOLDN may have violated Wisconsin state law prohibiting in-kind or monetary donations that "could reasonably be considered as a reward for any official action or inaction on the part of the local public official."54
The report claims that CEIR is a "potential part[y]" to "future illegal drop box or election bribery litigation or prosecutions" and may be "improperly coordinating legal defenses of election officials to protect CTCL, CEIR, Zuckerberg, [Priscilla] Chan and related entities and individuals."55
The special counsel report also heavily criticized another Zuckerberg-funded organization active in Wisconsin, the Center for Technology and Civic Life (CTCL), for allegedly committing "prohibit[ed] election bribery" in the 2020 election for distributing $10.1 million to cities and counties in order to "facilitate in-person and absentee voting," a violation of state law barring cities from "receiving money to facilitate electors going to the polls" or "voting by absentee ballot."56 CTCL denied wrongdoing, arguing that "this so-called report from Michael Gableman rehashes many of the arguments made in more than a dozen frivolous lawsuits filed to smear the CTCL COVID-19 Response Grants program."57
Following the issuance of the Wisconsin special counsel report in March 2022, CEIR held a media briefing on "efforts to undermine democracy in several states," Wisconsin included. Journalists from the Tennessee Star were kicked out of the briefing after "registering through the appropriate channels and having [their] attendance confirmed." The Star reporters wrote that they had planned to ask CEIR two questions probing CEIR's support of a Michigan organization founded by now-Secretary of State Jocelyn Benson (D) and that group's use of consulting firms associated with the Democratic Party.58
References